Artists have always been among the pro-active early adopters and explorers of new technologies, tools and techniques -- and 3D printing is no exception.
From small sci-fi and gaming accessories to jewelry, small display items and massive museum installations, artists have been putting 3D printers and printing to work in a growing variety of ways. Some do it by adding a 3D printer to their workshop; others by working with outside experts and printing facilities.
Here's a look at a few artists -- including GrabCAD Community members -- and their use of 3D printing.
3D Printing Metal Sculptures
For Bathsheba Grossman, whose math degree led her to art school trying to make sculptures of geometric and complex mathematical shapes, 3D printing turned up just in time to keep her from seeking some other career.
"When I learned about 3D printing, it was immediately obvious to me this was a way I could make all the designs and shapes that I had been wanting to make," recalls Grossman.
Using the traditional 'lost-wax' mold method, you can only make one sculpture from a mold. I could make singles before 3D printing by taking infinite time, but it was just a hobby. To make any money on sculpture requires multiples. Also, creating the shapes I want is very difficult. 3D printing solved both of these problems for me.
As a result, Grossman trained herself in CAD, using Rhinoceros 3D software, which she felt was the best choice for doing fancy topologies: "It's very friendly for algorithmic work, for example -- along with Houdini for things like turbulence and procedural textures."
To 3D print her pieces, Grossman started working with Z Corporation (now part of 3D Systems)  back in 1997. In 2003, she worked with Ex One, which was then the Prometal division of Extrude Hone.
Since then, through her studio, Bathsheba Sculpture LLC, Grossman has been creating and selling a variety of 3D-printed steel art objects, which include handheld art, geometrical objects, and small items like bottle openers, as well as larger ones.
Grossman's 3D metal art typically costs between $50 to $500, although she has some projects that run up to $10,000. She also creates and sells 3D laser-etched glass, which allows visualization of biological, astronomical, physics and other data, for a mix of useful and decorative/gift purposes.
She notes:
3D printing is the most amazing thing to happen to sculpture since lost-wax casting was invented 6,000 years ago. It lets sculpture finally join writing and graphic art as a medium that can be digitally captured, saved and reproduced without error, where a physical sculpture is unique, and vulnerable to accidents.
Turning Medical Imaging Into Art
Many artists seek out places with the imaging and 3D printing expertise to access 3D printers that are too big and expensive to buy  for their art projects. For example, Biomedical Modeling, Inc. primarily creates its three-dimensional custom anatomical models for medical, dental and biomedical engineering application -- not to mention, anatomical art.
"We're an anatomical engineering company, working mostly for surgeons, hospitals and medical device companies but we also help artists, who have often been deprived of access to internal anatomy," explains company president and co-founder Crispin B. Weinberg. "Medical imaging allows these artists access to internal anatomy."
Biomedical Modeling can produce both "biomodels" (physical models) and  "bioCAD" (CAD-compatible virtual models). While most of their work uses CT or MRI scan data, the files can be tweaked by them or the artist before printing.
Weinberg (who is also a GrabCAD Community member) explains that one of the reasons most of Biomedical's models are 3D printed is because most medical shapes are complicated organic shapes, and aren't normally machinable. In addition, while you can find generic files for brains and skulls, if you want something particular like your own skull, you need to scan it.
"About 95% of the 3D printing we do is stereolithography and multi-jet modelling, but we also use Selective Laser Sintering (SLS) and even Fused Deposition Modeling (FDM)," Weinberg notes.
Matthew Day Jackson's Blockman sculpture
"We took the STL (Standard Tessellation Language) image of his skull, which had half a million or so triangles, and reduced it in stages to a single tetrahedron, trying to preserve the geometry as much as possible," Weinberg explains. "Jackson selected the seven designs (stages) to use and we printed them for him to use as casting.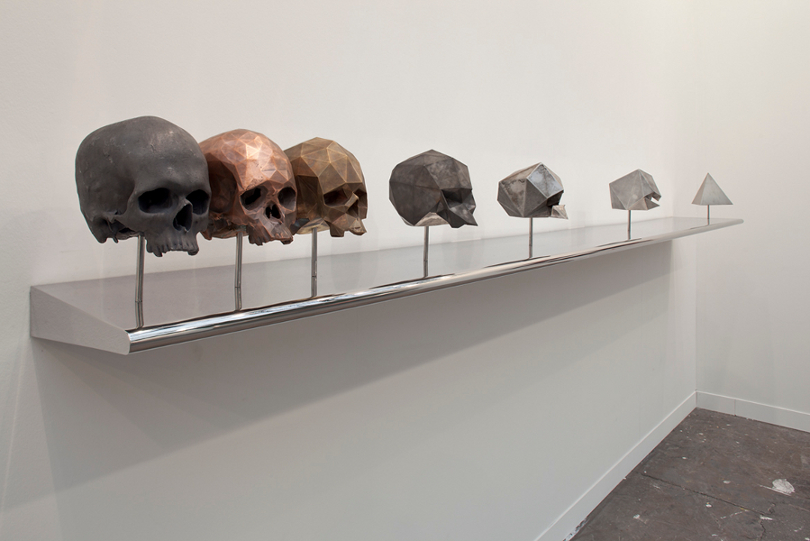 Kiki Smith's skull sculpture
"Kiki Smith sent us a CT scan of her skull, which we printed using stereolithography, which she then used to cast copies in bronze, for part of one of her art exhibits," Weinberg explains.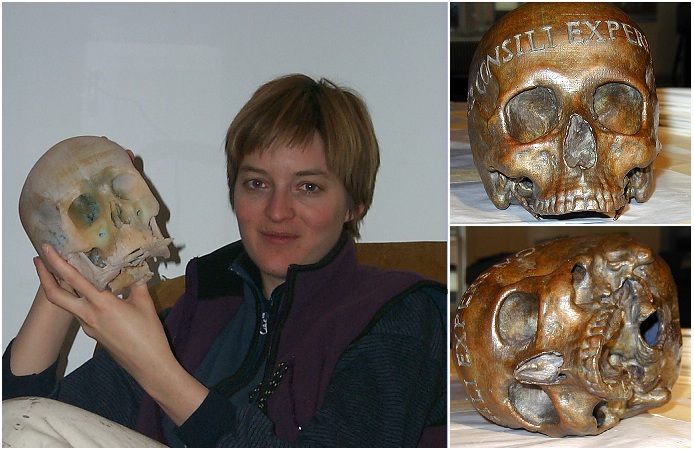 Bringing Cosplay to Life
3D printing is also being enlisted by artists for personal use, like costuming. Take GrabCAD Community member Mark Ayers for instance, who has 3D printed life-size creations:
I have daughters who are artists and we (together) have used 3D printing to bring some of their cosplay and other creations to life. We have created some fun stuff, like the life-size feet for a cosplay of Frank from J. K. Rowling's Fantastic Beasts And Where To Find Them. We also modeled his beak and printed it.
3D Printing Jewelry
Our final artist is GrabCAD's very own Biniam Kebede. Bini is an artist who creates values through art, design, experiences and entrepreneurship. He creates both 3D printed art and 3D printed jewelry which are a representation of his life events.
"It's also inspired by old, original and traditional Ethiopian designs that date back to 14th century," explains Kebede.
As you see, whether you're doing art for museum and gallery exhibitions, product and custom retail sale, or for your own use and enjoyment, 3D printing can be a part of your toolkit. 3D printing can also be used to help save the planet, like bio-industrial designer Megan Valanidas used it for.