I picked a few of my favorite engineering-tailored Valentine's Day pieces from around the world wide web just for you.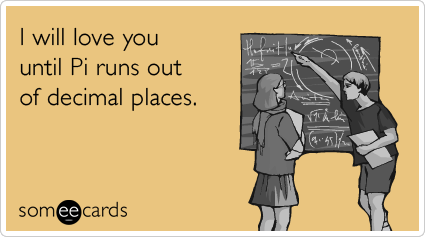 PopularMechanics.com: 35 DIY Valentine's Gifts
Looking for a better Valentine's Day gift than the same old chocolates and flowers? There's still time to make something special for your special someone.  What about aluminum cast hearts? This plan calls for a CNC router, which will allow you to create foam molds of the heart shape. When you fill the molds with molten metal, the foam vaporizes and leaves you with the heart cast in aluminum. (Just remember to wear a respirator and goggles.)
Check them all out at popularmechanics.com
ABB: 10 movies for engineers for Valentine's Day
Here's a Valentine's Day guide to movies, loaded with love and also really cool other stuff an engineer will enjoy. Here are some of my favorites inclusions:
Back to the Future, 1985 – Why? Michael J. Fox.  And because for 1985, engineers have to agree that the construction of the DeLorean time machine was pretty sophisticated!
I, robot, 2004 – If you're into robots (and I guess all engineers are), this movie should be on your bucket list. It's all about the 3 laws of robotics and the question of how human robots will be in future.
A.I., Artificial Intelligence, 2001 – A cute little (robot) teddy bear, a cute little (robot) boy and the oh so cute (love robot) Jude Law – what more do you want in a Valentine's Day movie?
See the full list at abb-conversations.com
Boston Globe: A geek's guide to Valentine's day
Yes, these suggestions are all in Boston (sorry for my geographic bias), but they're so cool you may want to take the trip! Some of my favorite suggested activities:
POWER UP To supercharge your romantic day, transport to the Museum of Science's one-million-volt Theater of Electricity. On Feb. 14, catch the IMAX movie "The Human Body" for a "look, in astonishing detail, at the biological processes that go on without our control" — go ahead and let your mind wander over that a while. www.mos.org
TEMPLE OF TECH At the MIT Museum, kneel down before permanent exhibits on robotics, artificial intelligence, the history of MIT research, kinetic sculpture, the GAMBIT Game Lab, and the world's largest collection of holograms. "How People Connect" on Feb. 14 features MIT researchers discussing the ins and outs of human interaction — like getting cheat codes for love. End with a surprise geeky gift from the museum store. Central Square, Cambridge, www.web.mit.edu/museum
DIGITAL ME Local jewelry lab Dyo uses software and 3-D printing technology to add personalized elements to rings, pendants, and dog tags of their design. www.dyo.co At the MakerBot store, surprise your darling by digitizing yourself (or both of you) in their 3-D Photo Booth, then memorialize your passion with a plastic, 3-D printed bust of your head and shoulders. Back Bay, www.makerbot.com
CAN'T HACK IT Give the gift of gadgetry. Actually, you can play with electronics and robotics for free on Circuit Hacking Night at Artisan's Asylum. Or sign up for a course like DIY Kinetic Sculpture. Union Square, Somerville,www.artisansasylum.com  More advanced lovers can forge their own Ring of Power at a class like "Make Your Own Wedding Rings." Stonybrook Fine Arts, Jamaica Plain, www.stonybrookfinearts.com
Check out the full Boston Globe article
Do you have any special engineering Valentines plans?
Follow Lindsey on Google+